Products
Microscope
Automatic Particle Size Analyzer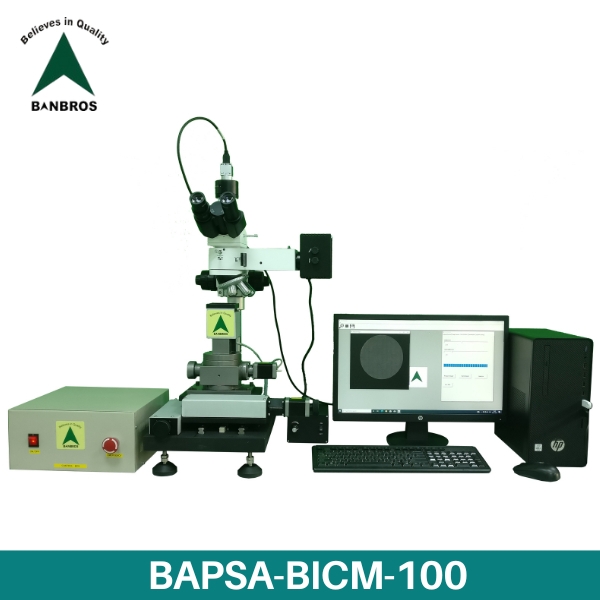 BAPSA-BICM-100
Automatic Particle Size Analyzer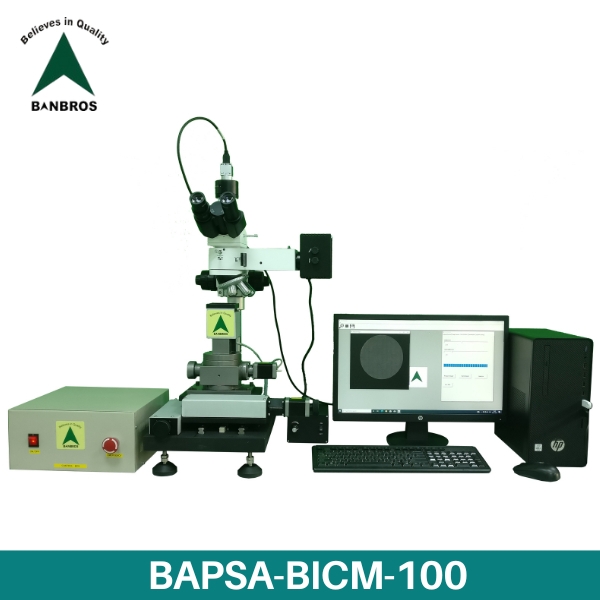 Description
This microscope has all the high-end world class optics assembled with precision-engineered mechanical components for observation at higher magnifications.
The microscope is associated with high-class "Plan-chromatic" objectives to offer highest resolution for critical microstructures at high magnifications. for e.g. hardened & tempered, Spherodized, Lamellar peralite and other micros.
Mechanical assemblies' cleanliness measurement test set up By - Particle Size Measurements.
Features
Computer system included in the offer
A) MICROSCOPE-
-Trinocular Observation Head-
Siedentopf observation head inclined at 30° rotatable at 360°.
Vertical phototube for micro photography.
Diopter adjustment ring on ocular tube (±5).
Inter pupillary distance from 55mm to 75mm.
-Eyepiece (Anti fungus)-
Wide field 10X (paired) F.O.V. 22mm.
-Objectives (Infinity corrected)-
M Long working distance plan 5X
M Long working distance plan 10X
M Long working distance plan 20X
M Long working distance plan 50X
-Magnification- 50X-500X
B) MOTORIZED STAGE WITH CONTROL PANEL
C) DIGITAL COLOR CMOS CAMERA- (5 MPIXEL)
D) PARTICLE ANALYSIS SOFTWARE (Software as per ISO 16232)
Acquisition
Image Generation
Separation
Measurement
Classification
Statistical Analysis
Microstructure Software Module
*For more details refer catalogue
Specifications
| | |
| --- | --- |
| Model No. | BAPSA-BICM-100 |
| Image Sensor | 1 / 2.5" type CMOS |
| Effective picture elements | 2592 x 1944 (H X V) |
| Maximum Frame Rate | 5.8 at high resolution |
| Pixel Size | 2.2 X 2.2 |
| Shutter Type | Rolling / Global reset |
| ADC resolution / output | 10 bit → 10 / 8 bit |
| SNR | >38 dB |
| Exposure Time | 10 ms – 1 s |
BAPSA-BICM-100
Automatic Particle Size Analyzer