Products
Hardness Tester
Accessories For Hardness Tester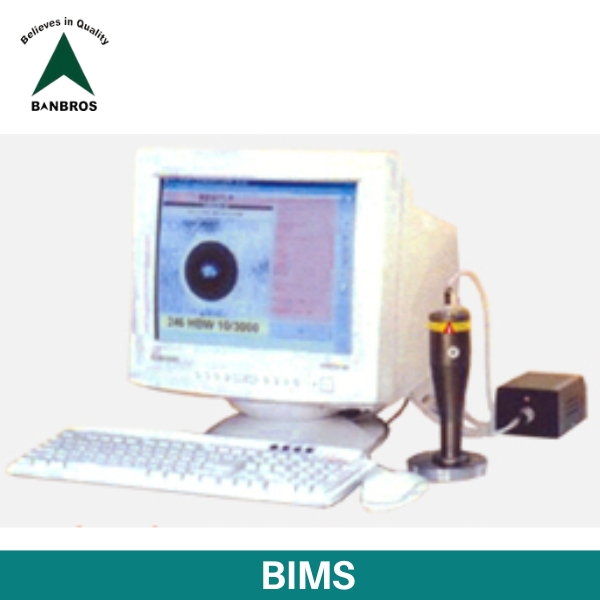 BIMS
Brinell Impression Measurement System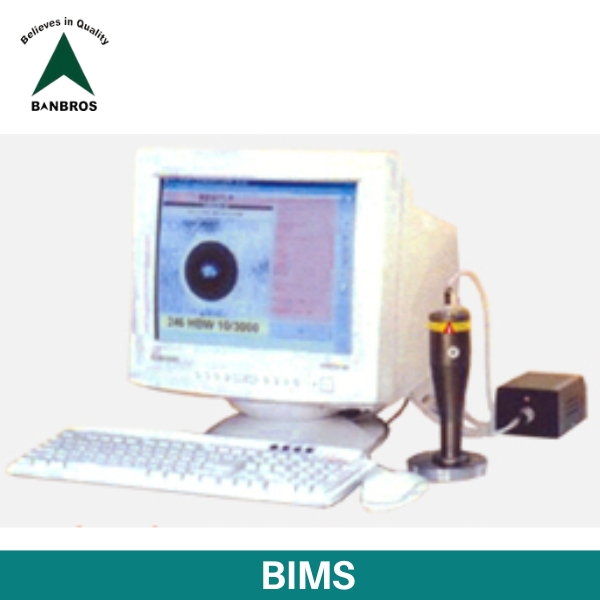 Description
The B.I.M.S virtually eliminates operator influence
It is found that measuring Brinell indentations can result in measurement errors between operators. This B.I.M.S. can virtually eliminate operator influence on test result.
Just place and click! Operating B.I.M.S is easy
With this handy instrument entire test sequence is simple. Place the CCD camera tube on the work piece and press button on tube or click 'Auto' in toolbar on computer screen. The B.I.M.S. automatically measures the diameter of indentation with resolution of 0.01mm and display Brinell hardness value with diameter. All data storage functions are automatically performed according to batch parameters.
The B.I.M.S. can be configured to meet your needs
An unlimited number of batches can be created each with its own test parameters and certificates. The operator can select test load and indenter size, party name, address, certificate no. date, batch no. and description, high and low limits for readings etc. The previous batches can be reopened for viewing and address change etc.
The software reports include readings, statistical data, frequency distribution and variation graphs and certificate. The export to Excel option is provided and generates Microsoft excel file.
The systems includes calibration and check facilities to calibrate scale and for checking of calibration. This eliminates any systems error in measurement.
Mobile measurement system - use anywhere
The unit is USB powered. As you plug in USB video capture, power is sourced by USB port and no other power supply is required. This makes it ideal for measurement with laptop.
Application
To measure Brinell Hardness directly on machine where presently Brinell-Microscope is used. This avoids eye straining of operator on producing testing. In addition it gives far better repeated accuracy. High-low limits selections enables operator easy acceptance / rejection of components.
Can be connected to Laptop or Desktop PC. Easy to carry anywhere and handy for use with easy setup.
Specifications
The range of Measurement is from 1mm to 6 mm of diameter with Resolution of 0.01mm
Software Description
Facility for Auto / semi Auto / Manual modes of operation.
Well managed database saves readings w.r.t. batch and certificate.
Report generation in the form of certificate and graph.
Facility for calibration and check of calibration.
BIMS
Brinell Impression Measurement System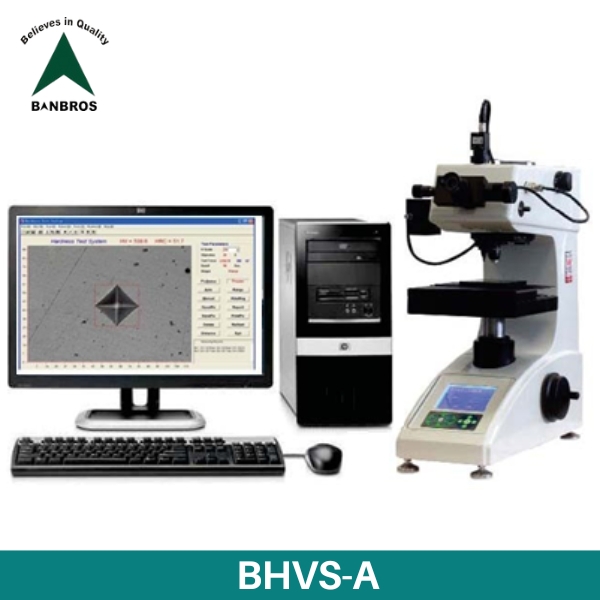 BHVS-A
Hardness Measurement Software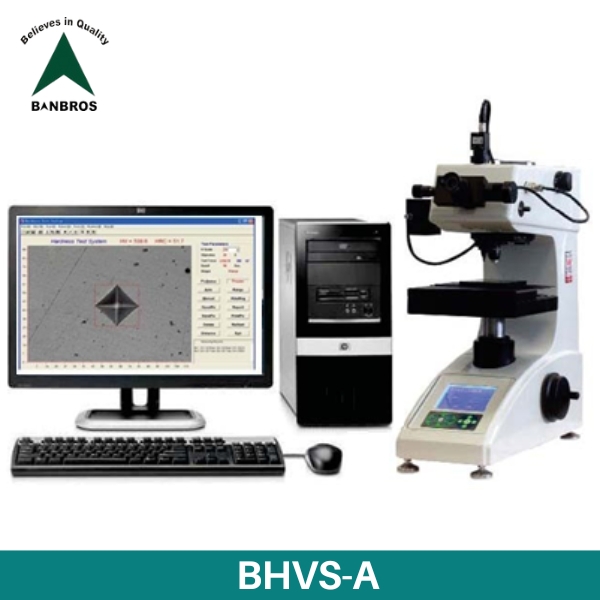 Features
Auto hardness measurement: With a click of a button, the software automatically measures the diagonals of the indentation, calculates the hardness value and the statistics.
Hardness curve: With the depths of test points by user input, the software automatically plots the hardness curve(s); User may save and load the depths in a depth template file for later testing for convenience.
Conversion, compensation, and validation: Converts HV to other hardness scales;Validates the test results with sample dimensions; Compensates the test results with respect to sample cylindrical/spherical diameters.
Statistics: Automatically updates the statistical values such as average, min and max, standard deviation,Cp and Cpk.
Auto-alarm: Automatically marks the out of spec measurements.
Test report: Automatically generates WORD or EXCEL report with customizable template.
Data archiving: Measurement data and images can be saved in one file for later retrieval.
Knoop Scale: Can be configured for Knoop Scale measurement.
Other Functions: Includes the basic functions of imaging system such as image capture, camera calibration, image processing, geometric measurement, document labelling, album management, and printing with specified magnifications.
BHVS-A
Hardness Measurement Software

MH-4.5
Micro Hardness Analysis Software
Description
BANBROS Micro hardness image analysis software is a flexible yet affordable software solution that enables you to acquire measure and even analyze the results of Vickers hardness test. The automatic image analysis software measures the size of your indentation and calculates the Vickers hardness of your test piece. This software will guide you white testing case depth and the result of your complete test can be analyzed using the software. This software will also generate reports with your company logo.
This software is also an ideal solution for upgrading or retrofitting older hardness testers. Install the software on your own computer, attach the camera to the hardness tester and plug in the USB camera. The system is very easy to install and can be setup on most micro and macro Vickers.
The software provides simplest, accurate and user-friendly platform to all geometrical measurement. Creates customized reports with images, date and text in MS Word and MS Excel format.
Features
Calibration: This tool is used for calibration through calibration scale.
Hardness Indentation Measurement.
Micro Hardness Profile with ESD identification
Create custom made formatted reports of live and stored image.
Display results on the computer & you may take multicolor prints out.
MH-4.5
Micro Hardness Analysis Software