Products
Material Testing Machines
Bend Rebend Testing Machine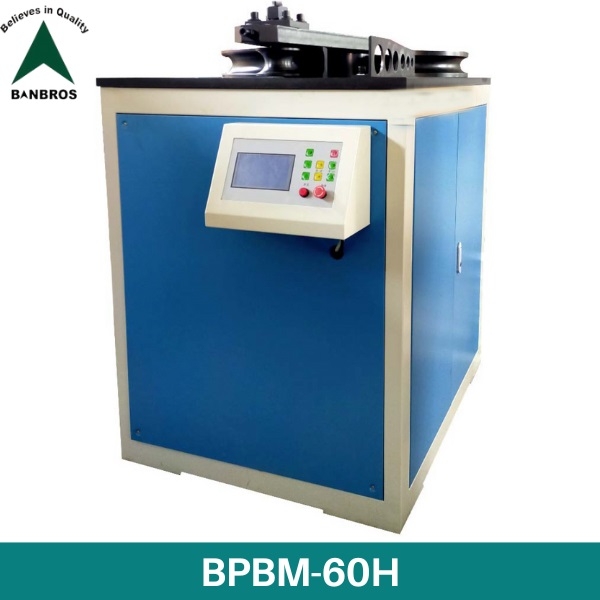 BPBM-60H
Steel Pipe Bend Testing Machine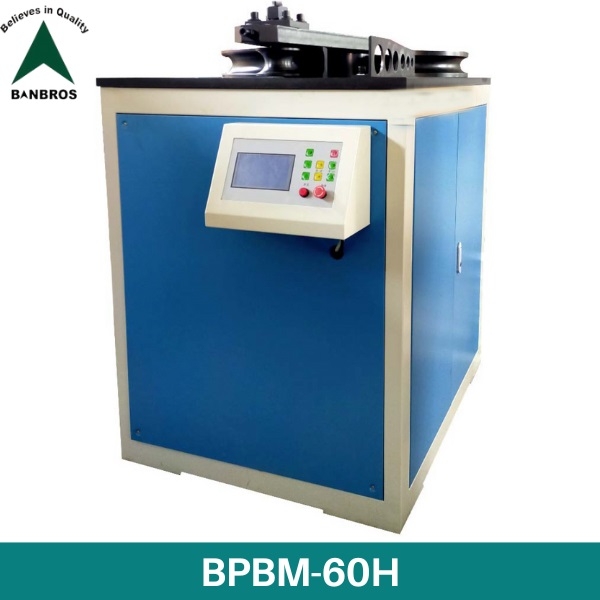 Description
BPBM-60H"Welded (Low Pressure Fluid) Steel Pipe Bending Testing Machine" is a special equipment for plane bending test of metal steel pipe. The equipment is a new product developed according to ISO8491:1998 "Metal material tube bending test method". It is suitable for metal pipe bending test methods specified in ISO Standards
fluid transportation" (outer diameter not more than 60.3mm (≤Φ60.3mm) welded pipe) standard in chapter 5.5 process performance in the steel pipe bending test, has been unable to complete this test efficiently and standardly, Jinan Puye technical personnel combined with relevant experts and testing units, successfully developed a welding (low pressure fluid) steel pipe special bending testing machine, can efficiently complete ISO 8491:1998 "low pressure fluid transportation with welded steel pipe" Chapter 5.5.1 Process Performance: Steel Tube Bending Test. The product is widely used in inspection units, metal pipe factories and pipeline enterprises to test the bending performance of metal pipes. BPBM-60 welding (low pressure fluid) steel pipe bending testing machine is based on BPBM-40 steel bending testing machine based on the development of products, for different nominal caliber steel pipe specimens only need to replace the corresponding bending sleeve, adjust the bending radius and replace the roller, the equipment accuracy is reliable, easy to use, long service life, is currently the most complete welding (low pressure fluid) steel pipe bending testing machine.
Specifications
Model No.
BPBM-60H
Curved steel pipe nominal diameter range (DN)
DN6(Φ10.2) ,DN8(Φ13.5) ,DN10(Φ17.2) ,DN15(Φ21.3), DN20(Φ26.9) , DN25(Φ33.7), DN32(Φ42.4), DN40(Φ48.3), DN50(Φ60.3)
Steel pipe bending angle
0°-90° free setting
Roller operating speed
≤1.4 r/min
Bending angle control accuracy
±1.5°
quipped with bent sleeve radius R (6 times diameter) for steel pipe

Φ21.3mm×6≈127.8mm;Φ26.9mm×6≈161.4mm; Φ33.7mm×6≈202.2mm;Φ42.4mm×6≈254.4mm; Φ48.3mm×6≈289.8mm;Φ60.3mm×6≈361.8mm

Optional: Φ10.2mm×6≈61.2mm; Φ13.5mm×6≈81mm; Φ17.2mm×6≈103.2mm;

Wheel radius
R5、R6.8、R8.6、R10.7、R13.5、R16.9、R21、R24.2、
R30.2
Test control methods
1. Manual control: the sample bending test is controlled manually, and the bending angle is controlled manually during the bending process; 2. Automatic control: the bending test is automatically controlled by the equipment, the bending angle can be set, the angle is displayed from time to time during the bending process, and it will automatically stop when the Bending angle reaches the set angle.
Motor power
1.5kw
Dimension
970×760×1170mm
weight
700kg
BPBM-60H
Steel Pipe Bend Testing Machine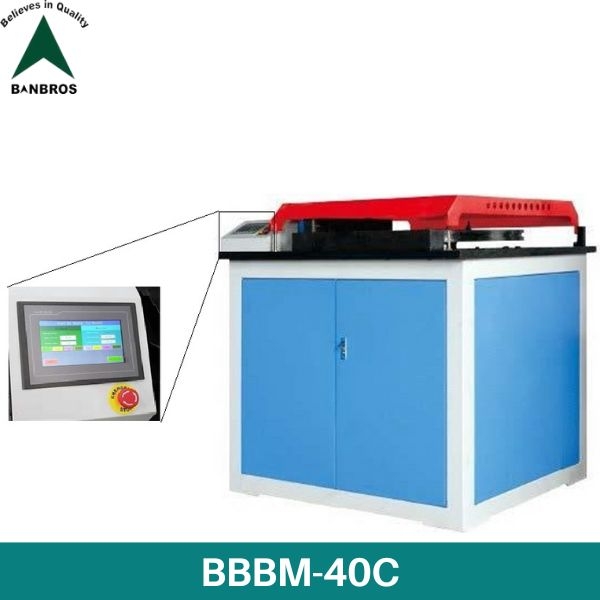 BBBM-40C
Steel Bar Bending & Rebending Testing Machine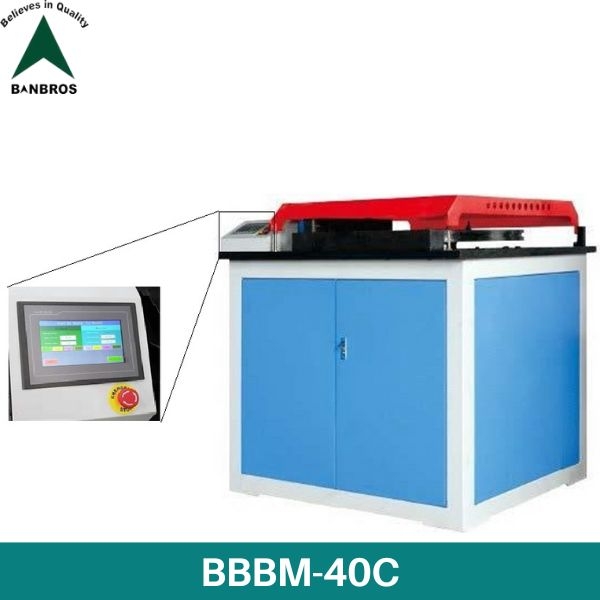 Description
Bending steel testing machine is a device for cold bending tests and surface root bending tests on steel.
This steel bending testing machine features compact structure, easy operation, large carrying capacity, smooth running, low noise, clear display of the bending angle and easy maintenance, to name just a few. It is an ideal device for steel plants and quality inspection units to test the bending and anti-bending performance of hot-rolled ribbed steel bars. It's conformed with ASTM A615 , ISO 15630, AS/NZS 4671 and EN 10080 standard.
Specifications
Model
BBBM-40C
Bending test steel bar diameter
φ6~φ40mm
Forward bending angle
0°-180° free setting
Reverse bending angle
0°-90° free setting
Rotating speed of working plate
1.4 r/min
Working table size
φ860mm
Roller center distance
280mm
Motor power
3 Kw

Steel bar bending center standard accessories

HRB400 HRBF400

4×Ф6, 4×Ф8, 4×Ф10, 4×Ф12, 4×Ф14, 4×Ф16,

4×Ф18, 4×Ф20, 4×Ф22, 4×Ф25, 5×Ф28,

5×Ф32, 5×Ф36, 5×Ф40, 6×Φ50

A total set of fifteen pcs
Working roll
Φ52, Φ68 each one
Bending mandrel
Φ56
Power supply
380V, 50HZ, 3phase
Dimension
1050×750×1200mm
Weight
800Kg
Power
3kw
Accessories
Description
Set

Can complete the bending performance test of steel bars (180°)

HRB500 HRBF500

6×Ф6, 6×Ф8, 6×Ф10, 6×Ф12, 6×Ф14, 6×Ф16,

6×Ф18, 6×Ф20, 6×Ф22, 6×Ф25, 7×Ф28,

7×Ф32, 7×Ф36, 7×Ф40, 8×Φ50

A total set of fifteen pcs

Can complete the bending performance test of steel bars (180°)

HRB600 HRBF600

6×Ф6, 6×Ф8, 6×Ф10, 6×Ф12, 6×Ф14, 6×Ф16,

6×Ф18, 6×Ф20, 6×Ф22, 6×Ф25, 7×Ф28,

7×Ф32, 7×Ф36, 7×Ф40, 8×Φ50

A total set of fifteen pcs

If the steel bar reverse bending performance test needs to be completed Order separately

(positive bend 90°, reverse bend 20°) HRB400E HRBF400E

5×Ф6, 5×Ф8, 5×Ф10, 5×Ф12, 5×Ф14, 5×Ф16,

5×Ф18, 5×Ф20, 5×Ф22, 5×Ф25, 6×Ф28,

6×Ф32, 6×Ф36, 6×Ф40, 7×Φ50

A total set of fifteen pcs

If the steel bar reverse bending performance test needs to be completed Order separately

(positive bend 90°, reverse bend 20°) HRB500E HRBF500E

7×Ф6, 7×Ф8, 7×Ф10, 7×Ф12, 7×Ф14, 7×Ф16,

7×Ф18, 7×Ф20, 7×Ф22, 7×Ф25, 8×Ф28,

8×Ф32, 8×Ф36, 8×Ф40, 9×Φ50

A total set of fifteen pcs
BBBM-40C
Steel Bar Bending & Rebending Testing Machine